Posted by Dillon on 8th Feb 2023
No home bar project is complete until you get a nice set of beer tap handles for a home bar. With so many styles and insane levels of customization, it's not always easy to find the tap handle that will work best for your particular setup.
Here in this article, we talk about the process of choosing personalized beer taps for your home bar and give you a few solid options (courtesy of Xpress Taphandles) that are really worth checking out.
Building a Home Bar With a Beer Tap
When you're creating a home bar, it's probably a labor of love. You want everything to be just the way you imagine it in your head, which most certainly involves lots of customization. Plus, you want your bar to really stand out – and that's exactly what home bar tap handles are for!
There are lots of great things about tap handles:
you can have them in almost any color and shape to match the design of your home bar
you can choose from different materials: wood, ceramic, marble, resin, etc.
you can personalize a tap handle by placing a custom text/artwork on it
As you can see, building a home bar with a beer tap makes perfect sense if style and uniqueness is what you're really after.
How to Choose Beer Taps For Your Home Bar?
Choosing home bar beer taps is easy when you know what parameters to look out for. Here are some things you may want to consider when shopping for a beer tap for a home bar.
1. Material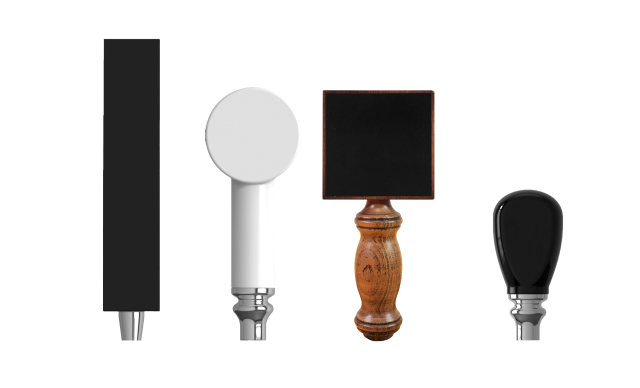 Typically, you would have to choose between ceramic and wooden tap handles. There's no such thing as one material being better than the other. It's just that wood looks a bit more brutal and rough, while ceramic is glossy and sleek.
There are also less popular materials such as marble and resin, which are both great for a cool-looking home bar with a tap.
2. Style/shape/color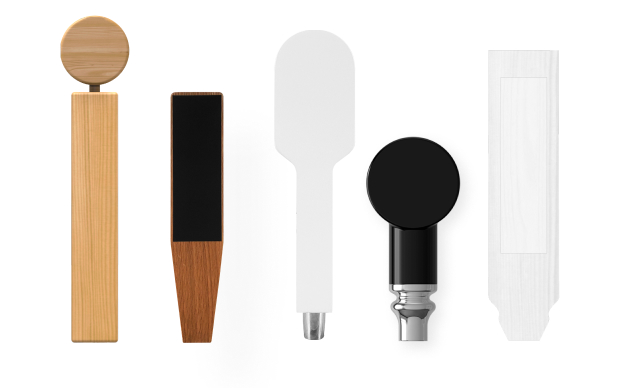 A standard tap handle is either rectangular or oval-shaped, which provides for a comfort grip. However, you can go ahead and choose one of those unique tap handles that come in the shape of… pretty much anything!
Some of the most memorable shapes include pig mafioso, naughty neighbor, and even President Obama.
As for the tap handle color, most people go with either black or white – however, most manufacturers other colors in their catalog, including green, blue, gray, and others.
3. Customization options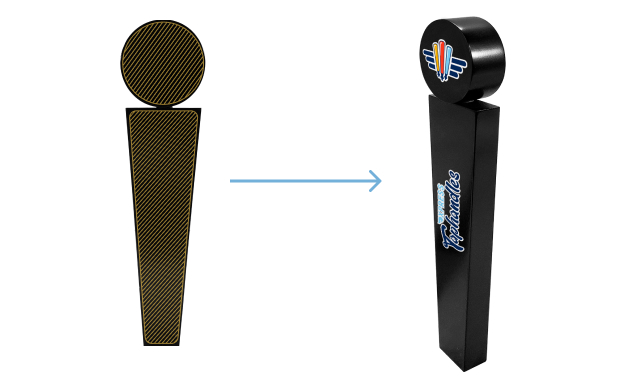 Certain manufacturer offer customization services, which means you can have your artwork/text featured on a tap handle.
Personalized Home Bar Beer Tap Handles
Getting a set of custom beer tap handles for your home bar with beer taps add that fine little touch and makes it look more unique compared to the mass-market produced models.
The technological progress has gotten us to the level where you can basically create your own home bar beer tap handle and have it delivered to your house without actually leaving it.
The customization options themselves are pretty wild too: you can go minimalistic and just place some short text in custom font and size, or you can go artistic and have a custom piece of artwork placed on a home brew beer tap handle of your choice.
Some text/artwork looks better on a wooden tap handle, other looks cooler on a resin one.
There's something to be said about chalkboard tap handles as well – they all feature a special surface that you can write on a with a marker, which then can be erased. If you happen to shuffle your brews often, this provides for a very convenient way to remember which tap serves which beer. All you have to do is clean the old name with a towel or sponge soaked in soapy water.
We've got separate articles on where to buy tap handles and how to find a cool tap handle for a kegerator - be sure to check them as well.
Where to Buy Custom Tap Handles for Home Bar or Kegerator
If you are looking to buy custom tap handles for a home bar in Canada and the USA, then Xpress TapHandles is the place to be!

With over a decade of experience and expertise in draft beer equipment and accessories, we know how to make cool beer tap handles. Custom-designed and manufactured right here in Canada, on our production facilities in Mississauga, Ontario, our tap handles provide an artistic way to display your products.
When it comes to customization options for our beer tap handles for sale, there are virtually no limits here. You can go with the following options:
existing brand logo/artwork
new brand logo/artwork
100% original artwork
If you can't think of any ideas, we'll be happy to help – our professional team will handle the design for you. Having worked with over 2,000 customers in North America, we can always suggest a solid idea that will be right for your draft beer setup. Finishing and printing are completed in-house with UV-cured inks that are made tough to last long.
To place an order, all you have to do is:
Choose the type and material for your future tap handle
Submit your artwork for branding
Approve the final artwork we send you
Allow 1–4 days for us to produce and ship the tap handles to you
Orders within the US and Canada are shipped via UPS, FedEx, and Canada Post. There's no minimum order amount – however, we do give good discounts on bulk orders. If you're not sure about the artwork for your beer taps for home, let our specialists help you with ideas – just contact us via email, phone, or live chat.