Posted by Dillon on 28th Sep 2023
While traditional tap handles are still quite prominent, short beer tap handles have been getting more and more popular recently – and for good reason.
Here in this article on the Xpress Taphandles blog, we'll explore the benefits of using short beer tap handles for a kegerator, discuss the different types and styles available, and provide some interesting ideas for incorporating these handles into your bar.
3 Benefits of Using Short Beer Tap Handles
Of all the benefits of cool short tap handles, we'd like to single out these three:
Space efficiency
Decorative short beer tap handles are ideal for bars with limited space. Their compact size allows for more taps to be installed in a smaller area, maximizing the variety of beers available to customers on tap. Not only does it increase customer satisfaction, but also opens up opportunities for bars to showcase a wider range of craft beers and seasonal brews.

Improved aesthetics
Short beer tap handles offer a sleek and modern appearance that can enhance the overall appeal of a bar. With their minimalist but memorable design, fun short tap handles provide a contemporary touch to any bar setting. Additionally, their smaller size allows for better visibility of the beer selection, making it easier for customers to choose what they'd like to drink.

Ease of use
Whether it's tall or short beer tap handles, they have to be ergonomically perfect. Most short beer tap handles are easier to handle (pardon the pun) than their longer counterparts. This allows you to easily reach and operate the taps, reducing strain and improving efficiency during busy hours. Shorter handles provide a comfortable grip and make it effortless to pour beer.
Short Beer Tap Handles Types and Styles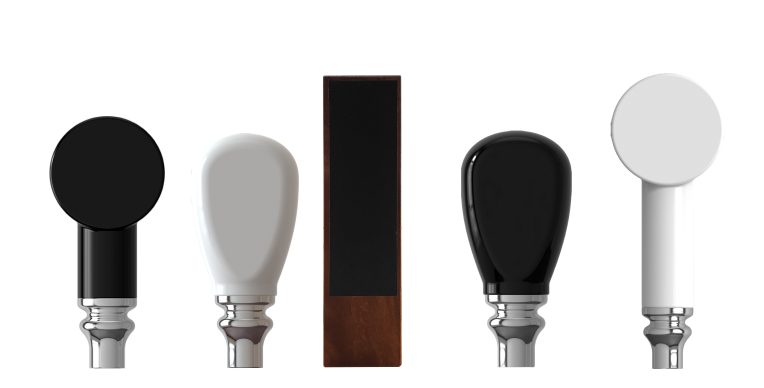 Much like any other type of tap handle, short beer tap handles come in a variety of materials, shapes, and designs to suit different bar aesthetics and branding.
From a short classic English pub tap handle to sleek marble or ceramic options, there is a wide range of choices available. Some popular styles include:
Vintage-inspired handles (e.g., a short English pub-style tap handle or a short European ceramic draft beer tap handle)
Short custom beer tap handles (custom-designed or custom-branded models featuring logos or artwork)
Unique beer tap handles (one-off models featuring completely wild and original designs)
Overall, the possibilities are endless – you can always pick a short black tap handle that will showcase your bar, its unique personality and stand out from the crowd. By exploring different types and styles, you can find the perfect tap handle to complement your bar branding and enhance the overall experience patrons get when they enter your establishment. Incorporating interesting ideas, such as themed handles or interactive elements, adds an extra layer of creativity and engagement.
If you ever run out of ideas, come to Xpress Taphandles! With over a decade of experience and expertise in draft beer equipment customization, we know how to make great custom tap handles.
To place an order, all you have to do is:
Choose the type and material for your black tap beer handle
Submit your artwork for branding
Approve the final artwork we send you
Allow 2–4 days for us to produce and ship the tap handles to you
Orders within the US and Canada are shipped via UPS, FedEx, and Canada Post. There's no minimum order amount – however, we do give good discounts on bulk orders for small black tap handles wholesale.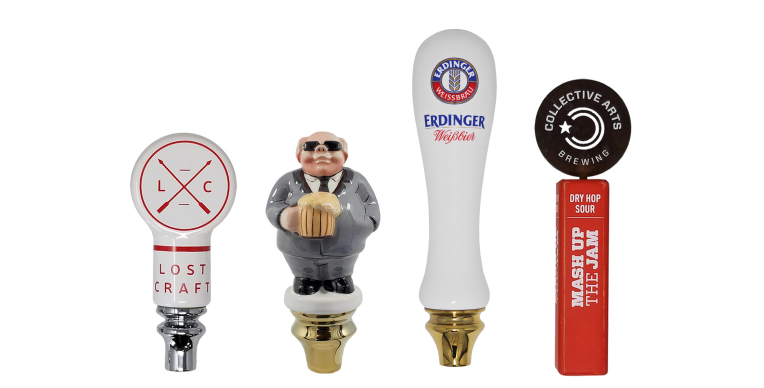 Short Beer Tap Handles Ideas for Your Bar
Here are a few popular ideas for cool short pub tap handles:
Themed handles
Consider using tap handles that reflect the theme or concept of your bar. For example, if your bar has a beach theme, opt for a short tap handle for wine or beer shaped like surfboards or palm trees. This adds an extra layer of visual appeal and reinforces the overall look and feel of the bar.
Local touch
Showcase local pride by using short beer tap handles that represent the region or city where your bar is located. This could include artwork that features iconic landmarks, local sports team logos, or symbols associated with the area's culture and heritage.
Interactive handles
Engage your customers by installing short beer tap handles with interactive elements. For instance, handles with built-in LED lights that can change color when a specific beer is poured. These unique features create a memorable and interactive experience for patrons.

Not sure where to buy short bar tap handles? Check out the selection at Xpress Taphandles - from blank wooden tap handles to unique models, we have it all. Optional branding and customization are also available.