Posted by Dillon on 3rd Jan 2022
For such a seemingly unimportant part of a standard draft beer setup, tap handles get a disproportionate amount of attention - bar owner and beer drinkers alike. And for a good reason - it's one of those things that you can easily customize and use as an artistic statement or marketing tool.
Here in this article, we talk about different types of tap handles and what makes them so great.
What Is a Tap Handle?
A standard tap handle is usually 10-12 inches long, with a 3/18''-16 UNC insert at the bottom that screws onto the faucet.
If we're talking about a bar where several different styles of beer are served, tap handles are typically spaced 3" apart, which means the maximum width should be no more than 2.625". As for the weight, it all depends on the material but ideally, it shouldn't be more than 1 lb.
Tap handles are produced by both large brands and small-time manufacturers operating out of their basement. Obviously, you get more variety and interesting models with the latter.
Finally, you can easily make your own tap handles at home. All you need is a wooden blank, a saw, a brass insert, a bunch of common household tools, and some DIY skills.

Tap Handle Features
With tap handles, there are three main parameters you need to consider:
Material
Tap handles can be made pretty much out of anything. However, the two most common varieties are wooden and ceramic tap handles. Other materials include metal, glass, and plastic.
Shape
Here are some of the most commonly used shapes you can find in almost any bar: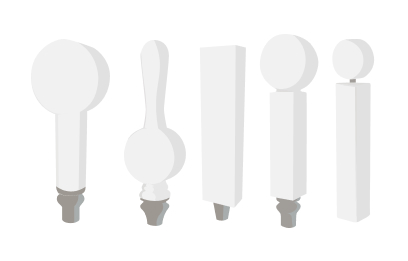 Style
Tap handles could be generic (i.e., mass-produced) or unique (custom-made in small quantities). The choice ultimately boils down to your aesthetic preferences.
As for compatibility, most tap handles sold in the US and Canada are designed to fit a standard North American draught beer faucet.
Different Types of Tap Handles
Although there is no officially established classification of tap handles, most people would agree that a particular tap handle can belong to either of these three distinct varieties.
Generic tap handles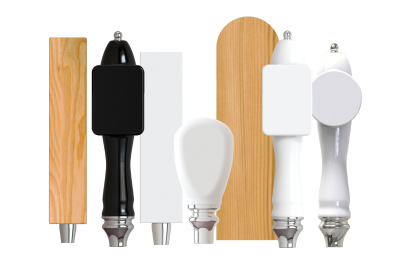 As we've mentioned, these are mostly mass-produced, blank tap handles used in thousands of bars all over the country. "Generic" doesn't mean "bad" - it's just these tap handles are not fancy or flashy. They're there to do the job.
The good thing is that generic tap handles can be upgraded by applying a custom logo or artwork, after which they stop being generic and start bearing your own, individual style.
In fact, we offer tap handle branding services so if you're looking to personalize a generic tap handle, we will be glad to help. Check out our selection and prices on our website.
Collectible tap handles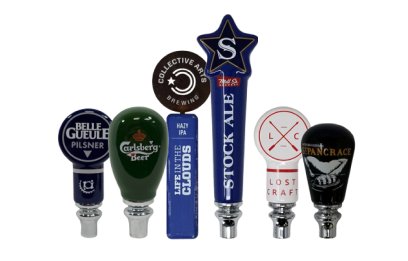 Collectible beer tap handles are also known as pub style tap handles. These are great for craft beer bars and pubs. They typically feature the name of some moderately obscure brewery - from a Bristol Stout tap handle to Wildeye tap handle and everything in between. The color and shape variations of these beer tap handles are too numerous to list.
Novelty tap handles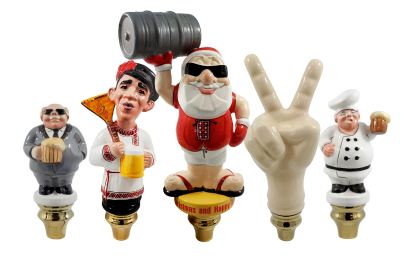 These are truly unique tap handles, a lot of them are handmade in very small quantities and in the most unusual and striking shapes - from a lady in folk dress to NFL-themed handles. Using one of these in your pub or home bar will let everyone know you take beer seriously.