Posted by Dillon on 17th Apr 2023
There's hardly any better gift for a homebrewer than a set of customized beer tap handles. Being both a practical and stylish present, custom beer tap handles will complement any home bar setup and adds a personal touch that's impossible with store-bought tap handles.
Here in this article, we talk about different ideas for a customized beer tap handle as a present and share some tips on choosing one.
Why Customized Tap Handle Is the Best Gift for Homebrewers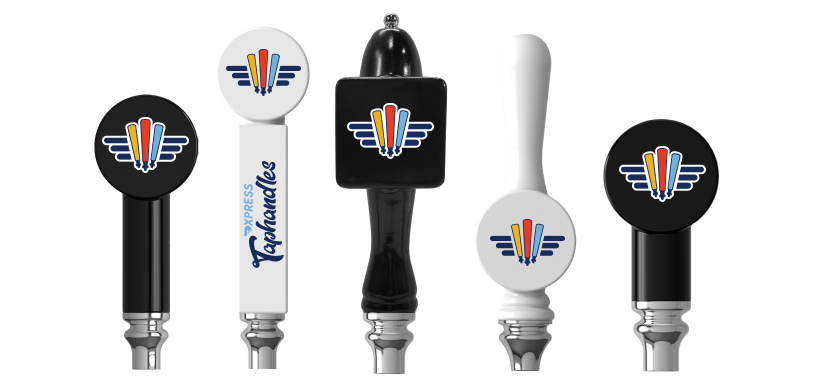 In recent years, homebrewing has become a popular hobby for many people who thought beer could only be made by big corporations on industrial-scale breweries. As it turns out, with a bit of skill, knowledge, and the right equipment, one can easily set up a brewing shop in the basement.
Homebrewing allows you to experiment with different ingredients and create unique flavors that cannot be found in most commercial beers. If you have a friend or family member who is into homebrewing, and you can't choose among all the different cool gifts for homebrewers, go with a customized tap handle.
A customized tap handle is one of the best gifts for homebrewers, and we have three solid arguments to support that notion.
1. Personalization
A customized tap handle is a perfect way for a homebrewer to express their unique style and personality (even though it's you who'll be giving).
Since you probably know the person you're about to give a custom tap handle to, you can use that knowledge to choose from a variety of materials, colors, and designs, creating a one-of-a-kind tap handle that reflects their individuality. What other gifts for beer homebrewers can give you that?
2. Functionality
A tap handle is an essential tool for any homebrewer, so there's no question about whether they will actually use it or not. Plus, you don't have to worry about your particular present fitting the tap since most tap handles have standard design and dimensions.
As a result, you get a present that not only looks great, but it also serves a practical purpose – isn't that enough to make it one of the great gifts for homebrewers?
3. Lasting impact
Finally, the durability and memorability factors. A well-made tap handle can last for years, making it a practical and long-lasting gift.
5 Things to Consider Before Buying Customizable Tap Handles as a Gift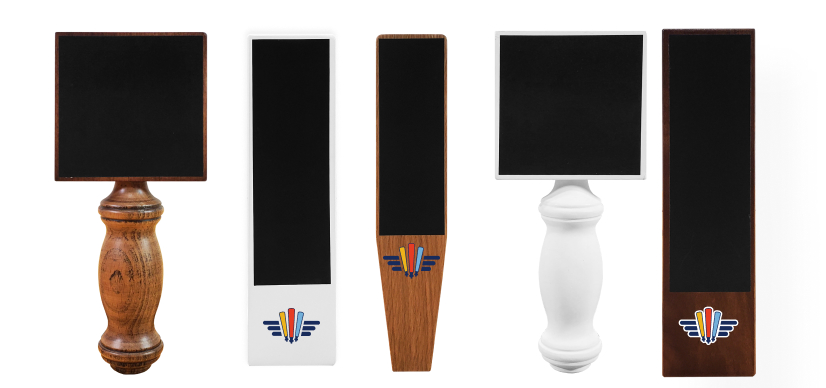 Choosing a customizable tap handle as a present for your homebrewer friend or relative is not as easy as it may seem, especially if you are not familiar with the craft beer culture. No worries, that's why we're here – to give you pro tips that you can use as a guide when shopping for customizable beer tap handles.
Here are the five things to consider before buying a customizable tap handle as a gift.
1. Recipient's Preferences
This is the main point to consider when choosing a beer tap handle customizable – after all, this is a gift that you're buying. Does this person have a favorite beer brand or style? Do they prefer a certain color or design? Knowing these details can help you choose a tap handle that they will truly appreciate.
2. Material
Tap handles can be made from a variety of different materials, the most common ones being wood, ceramic, and resin. Consider the durability and aesthetic appeal of each material before making a purchase.
3. Customization Options
Some tap handles may offer more customization options than others. Consider whether you want to add a name, logo, or other design elements to the handle, and make sure the product you choose can accommodate your desired customization.
4. Style
You can go with a classic style and shape (oval or rectangular) or try something really unusual and wild. As we've mentioned in point 1, always keep your recipient's preferences in mind.
5. Price
As a rule, the more customizable keg tap handles you order, the less you have to pay per handle. So, if you believe that your recipient might use a couple of tap handles instead of one, go with more.
Customized Beer Tap Handle Gift Ideas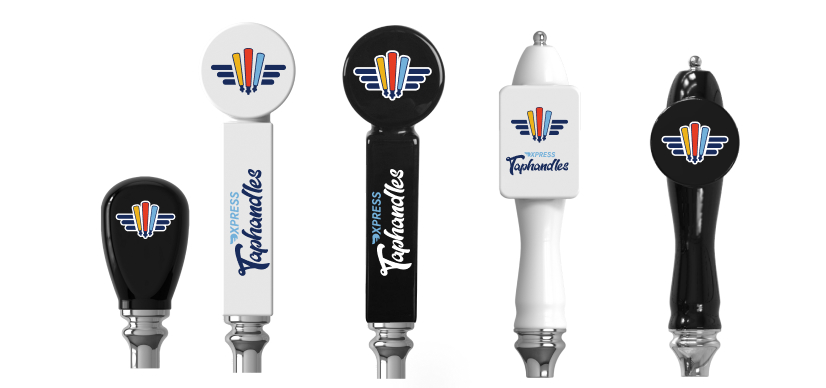 If you are looking to buy customized beer tap handles in Canada and the USA, then Xpress TapHandles is the place to be!
With over a decade of experience and expertise in draft beer equipment and accessories, we know how to make really unique beer tap handles. Custom-designed and manufactured right here in Canada, at our production facilities in Mississauga, Ontario, our customized keg tap handles provide an artistic way to display draft beer products. When it comes to tap-handle gift ideas, the first thing to do is choose between three main types of material:
You may also consider more exotic options, such as chalkboard beer taps or vintage beer tap. They're not as easily customizable as the previously mentioned options but still make for really cool beer tap handles.
Then, you need to decide what kind of artwork you'd like to feature on your customized tap handle: it could be the recipient's name, their favorite beer brand logo, favorite sports team logo, color set, or a completely original piece of art.
If you can't think of any ideas, we can help you. Having worked with over 2,000 customers in North America, we can always suggest a couple of nice gift ideas for homebrewers. Finishing and printing are completed in-house with UV-cured inks that are made tough to last long.

To place an order for customized tap handles, all you have to do is:
Choose the tap handle
Submit your artwork for branding
Approve the final artwork we send you
Allow 1–4 days for us to produce and ship the tap handles to you.
Orders within the US and Canada are shipped via UPS, FedEx, and Canada Post. There's no minimum order amount – however, we do give good discounts on bulk orders. If you're not sure about the artwork for your tap handle, let our specialists help you with ideas – just contact us via email, phone, or live chat.