Posted by Dillon on 5th Oct 2022
Custom keg tap handles are one of the most effective craft brewery marketing tools. With the microbrewery trend on the rise, it's no wonder the competition is so tough on this saturated market.
This means that, if you want to survive and thrive, you have to identify and leverage your strongest competitive advantages - and personalized tap handles might be one of them!
Brewery Marketing Ideas and Tips
In no way do we pretend to be certified specialists in craft brewery marketing but we may know a thing or two about craft breweries and taprooms, and maybe can give you a couple of good brewery marketing ideas.
IDEA #1. Have a specialty
With too many breweries and ideas for marketing a brewery, it's hard to stand out. If you want to do so, don't try to dabble into everything - find the one thing you're really good at and perfect it till you OWN it. Whether it's the style of beer, the atmosphere, or customer service.
Growlers are a great way for your customers to enjoy the taste of your beer somewhere outside your brewery. Plus, it's a nice brewery marketing opportunity for your brand since this is how word-of-mouth spreads.
IDEA #3. Custom tap handles
Custom keg taps are eye-catching, super cool, and attract beer drinker's attention faster than anything else. To see how cool custom beer tap handles can be, check out the selection of the Xpress Taphandles brand.

Brewery Marketing Strategy & Customer Retention
Every new brewery marketing plan starts with a proper analysis where you lay out your strengths and weaknesses, opportunities and threats (the classic SWOT analysis). This will allow you to position yourself better.
Next up comes your target audience - create a portrait of your ideal customer with a list of qualities that define them.
The next logical step of a craft brewery marketing plan is coming up with a product offering and pricing strategy, which deserves a separate article (or two).
But let's say you've figured out all of the previous steps - isn't something missing? Yes, it is - we forgot about branding and design.
Craft beer culture is as much about presentation and style as it is about the beer itself. Be sure to reflect the interior, packaging, and overall design in your brewery marketing strategy.
Finally, don't forget about the 'local' factor. Craft breweries rarely boast nation-wide distribution. If you manage to win a couple of local customers first and then some more and then some even more, this will make for a great start for your business.
How to Use Beer Keg Tap Handles in Brewery Marketing?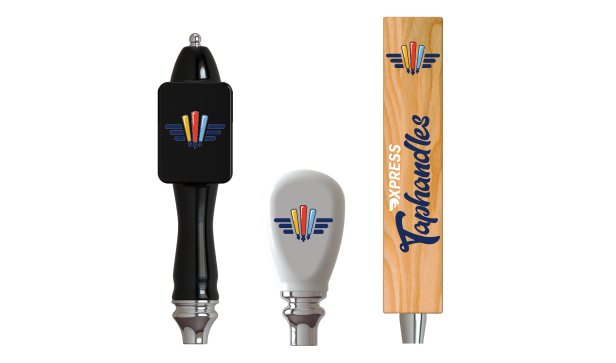 The whole purpose of custom beer keg tap handles is to spark an interest in every person who passes by. Ideally, a cool-looking, eye-catching tap handle should entice a potential customer to try and buy your beer.
Another important factor is branding and identity. If you design custom beer tap handles that are original enough for your customers to remember, chances are your brand will get more and more recognition.

If you're looking for keg tap handles for sale, be sure to check out Xpress Taphandles. We provide a wide selection of ceramic tap handles and wooden tap handles, with custom design and artwork possibilities.