Posted by Dillon on 15th May 2023
Not only can white beer tap handles look great by themselves, but they also offer almost unlimited possibilities for customization and personalization. This makes them a universal fit for any bar, pub, or brewery.
Here in this article, we're going to talk about the best white beer tap handles to choose from in 2023 and also share some tips on how to get the best value for your money.
White Beer Tap Handles Types and Styles
As one would expect, there is no such thing as just a white beer tap handle – there are too many variations, which does not help with picking the best one. What do we do? That's right, try to bring some order.
The easiest way to categorize white tap handles would be by splitting them into different groups based on the material they are made of, the most common ones being these three:
White ceramic tap handles
In addition to the overall sleek look, ceramic beer tap handles are known for their exceptional durability. Unlike other materials, ceramic handles are wear- and tear-resistant, which makes them a long-lasting investment. They can withstand being grabbed and pulled a thousand times a day (which is what often occurs in a busy bar environment) without losing their color and appeal.


White wooden beer tap handles
Wooden tap handles are not only visually appealing but also provide a comfortable grip, making them a favorite among draft beer enthusiasts.


White resin tap handles
Even though they may lack a bit of that vintage style, resin tap handles make up for it in the durability and reliability departments. Quality resin is usually highly resistant to chipping, cracking, and fading, which guarantees that these tap handles can withstand the daily wear and tear of a busy bar or pub.

Blank White Beer Tap Handles for Your Bar
Whether you're a homebrewer or a bar owner, choosing the right blank white tap handle for customization can make a big difference in attracting customers and adding a touch of elegance to your setup, whichever you may be going for.
When it comes to blank white tap handles, the customization and personalization options are virtually limitless. However, we took some liberty to narrow them down to these three most common options.
Bar/brewery logo and/or name
You simply can't go wrong with this one, as it carries the very essence of branding. A branded tap handle blank white allows you to create a seamless look with the rest of your establishment and show that you're really proud of your brand.


Beer style/name
Another option that will hardly disappoint anyone. If you don't change the beer you serve very often, it makes perfect sense to put the name of that beer on the blank white bar tap handle. But hey, even if you do change your beers a lot, you can always go with a chalkboard tap handle where you can erase the name of the beer and write a new one in a matter of seconds.


Sports team logo
If you support your local sports team and you want to show it, there is certainly nothing wrong with putting their logo (or mascot) on a couple of your beer tap handles. Let the world know where you stand!

How to Choose the Best White Beer Tap Handles?
Choosing the right white tap handle is easy when you know the algorithm – here it is.
Step 1. Choose the shape
The most popular shapes are round knob-style, oval pub-style, and rectangular.
Step 2. Choose the style
You will most likely have to choose between classic handles, chalkboard handles, collectible beer tap handles, and unique tap handles.
Step 3. Choose your customization level
This is where you need to decide how exactly you would like to personalize your white bar tap handles.
If you're running out of ideas, come to Xpress Taphandles! With over a decade of experience and expertise in draft beer equipment customization, we know how to create a piece of art from blank tap handles.

The following options are available:
Existing brand logo/artwork
New brand logo/artwork
100% original artwork.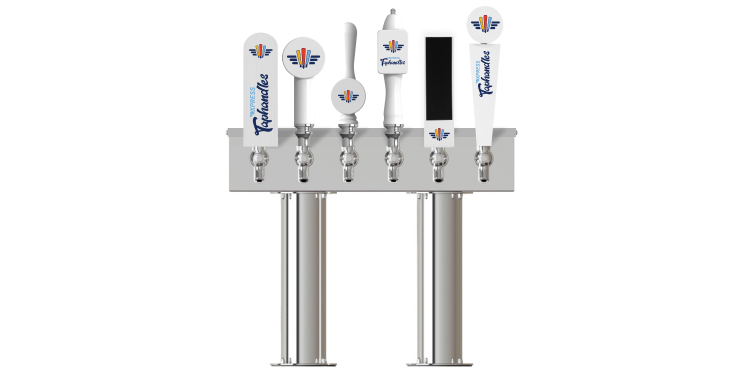 To place an order, all you have to do is:
Choose the type and material for your tap beer handle
Submit your artwork for branding
Approve the final artwork we send you
Allow 1–4 days for us to produce and ship the tap handles to you.
Orders within the US and Canada are shipped via UPS, FedEx, and Canada Post. There's no minimum order amount – however, we do give good discounts on bulk orders for personalized white tap handles wholesale.