Posted by Dillon on 10th Jan 2023
When it comes to beer tap handle shapes, some might think, "Does it really matter all that much?", to which we at Xpress Taphandles say, "It absolutely does."
Here in this article, we'll talk a bit about the different beer tap handle shapes and share some tips on how to choose the right one for you.
Types of Beer Tap Handle Shapes
Before we even go to the shapes, it's worth mentioning that there are a couple of main types of material you can choose from – wood, ceramic or resin. It's not like one is better than the other – each material has its own weight and feel. This means that, before deciding on the shape, you need to pick between ceramic, resin and wooden tap handles.
Now, with that out of the way, let's see what beer tap handle shapes there are and how they are different from one another. Whether it's because of ergonomics and ease of use or purely for presentation purposes, the shape of your beer tap handle has quite an important influence on how you feel about your draft beer system.
Classic, rectangular beer tap handle.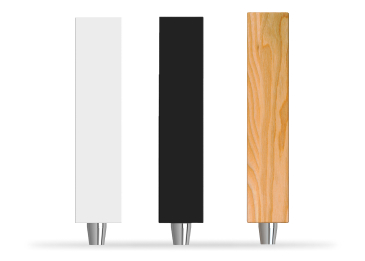 This is one of the most common shapes – mostly because it's easy to craft one by yourself out of a wooden plank and optionally apply some paint or lacquer. Can't go wrong with this one – it's minimalistic, a bit brutal, and cheap. The downside is that this shape will hardly earn you any style points (if that's what you're after).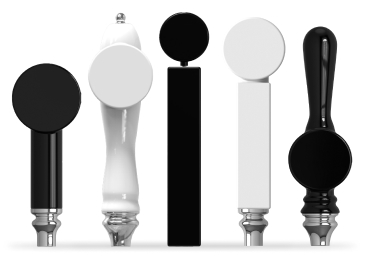 Comes in two distinct variations – the classic, elongated cylinder beer tap handle and the short, bulb-shaped model. Both are excellent in ceramic and can be easily branded. The small beer tap handles are the most stylish ones here.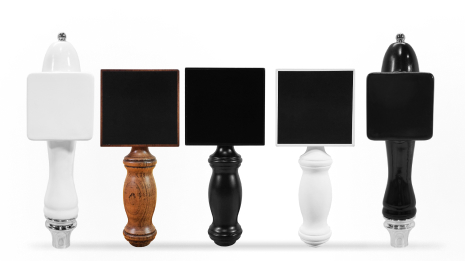 This is a combination of the two previous shapes: you've got a long beer tap handle in the shape of a cylinder with a square plate on top. Naturally, this plate can be used for branding and/or decorative purposes.
Geometric beer tap handle.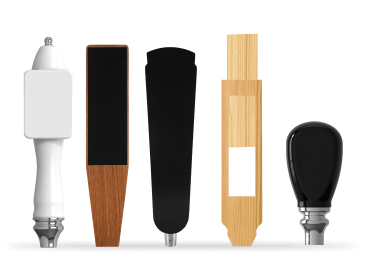 Basically, any unusually-shaped tap handles fall into this category. For the most part, it's the combination of oval- and square-shaped handles in varying proportions: from mini beer tap handles with more or less traditional shapes to some really weird ones. Although, how can you really blame someone for wanting to have a one-of-a-kind beer tap handle?
In addition to the shapes we've mentioned above, there are also custom-shaped, unique tap handles that are typically made in small quantities. They are a great way for someone to show off or simply poke fun at the patrons of their bar.
How to Choose Beer Tap Handle Shape?
When choosing tap handle shapes, you have to consider the following factors:
Your draft beer system setup
If you have a draft beer system that's designed to serve more than 2–3 styles of beer, you may want to go with slimmer, classic tap handles.
Most people would agree that round beer tap handles are generally easier to handle (pardon the pun).
If style is what you're after, then you should go with of them decorative short beer tap handles or custom beer tap handles. Ideal for small, home draft beer systems. Also, a chalkboard tap handle would look cool on pretty much any setup. Price As a rule, generic wooden tap handles will give you the biggest bang for the buck. The most expensive models are short custom beer tap handles made of marble.
Generally, resin and ceramic tap handles are considered to be the most reliable of them all. Go with a fat bottom beer tap handle, and you'll get the right combination of style and reliability. If you are looking for good-quality, affordable tap handles for your bar, pub, brewery, or man cave, get yours from Xpress Taphandles.

We offer a wide range of products, including ALL of the ones mentioned in this article, plus some really cool personalized beer tap handles that are custom-made in accordance with your branding choices.