Posted by Dillon on 13th Jun 2023
Running out of original beer tap handle ideas? We can share some! A custom beer tap handle is always a nice thing to have for someone who is an avid homebrewer or simply a draft beer enthusiast.
We hope you will find these tips useful and maybe inspiring enough to come up with a cool design of your own. Let's get right into it!
Best Beer Tap Handle Design Ideas 2023
Before you start applying your wild beer tap handle decoration ideas to actual blank tap handles, you first have to choose what material to go with. Basically, you have three main options:
Wooden tap handle
Resin tap handle
Ceramic tap handle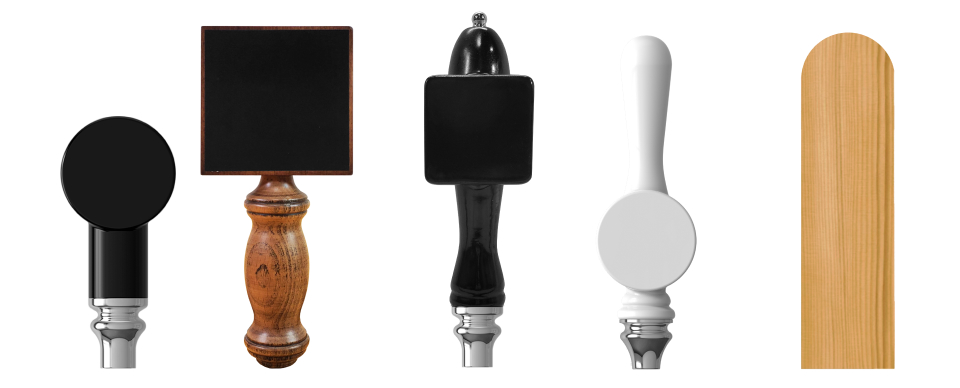 There is also a chalkboard tap handle, but it's customizable by default, so we won't put that on our list of the best beer tap handle ideas for a craft brewery.
The next step is choosing the shape – again, even though the choice is pretty wide, the three main shapes would be:

Now, when you're finally done choosing the right shape and style, it's time to make your beer tap handle display ideas come true. Here are some interesting tap beer handle ideas to get you started:
Beer and/or brewery logo
One of the best ways to add a touch of elegance and uniqueness to a beer tap is by placing your brewery's logo or the logo of the beer that you often serve. The natural beauty of the wood combined with intricate branding creates a visually appealing and sophisticated look that is sure to catch the attention of your friends or patrons.
Favorite sports team
The title says it all – if you support your local sports team, why not extend this support to a beer tap handle? It's a nice and stylish way to show your passion for a team without being too aggressive.
Favorite movie or TV-show-inspired graphics
We're not saying you should put, let's say a Batman's face on a tap handle – that's an example of an inappropriate beer tap handle round design. What might be classy though is a small but instantly recognizable Batman logo (yep, that tiny bat spreading its wings).
Funny lines
If you don't take yourself too seriously, why not have a few humorous lines (complete with images) placed on your tap handles – we're talking about phrases like "draft beer, not people" or anything else that will give you a chuckle every time you pour a beer.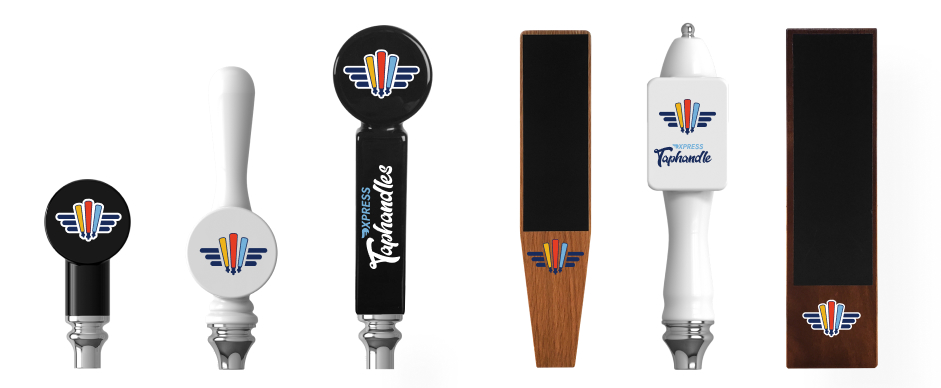 How to Design Your Own Beer Tap Handle?
First of all, you don't have to be an experienced craftsman to design your own beer tap handle. There are plenty of companies offering beer tap handle design services (including us) – sometimes, all you need is as little as a rough sketch of a piece of paper.
If you're running out of DIY beer tap handle ideas, come to Xpress Taphandle! With over a decade of experience and expertise in draft beer equipment and accessories, we know how to make personalized beer tap handles.
You can go with the following options:
Existing brand logo/artwork
New brand logo/artwork
100% original artwork
If you can't think of any ideas for your custom beer tap handles, we'll be happy to help – our professional team will handle the design for your tap handle. Having worked with over 2,000 customers in North America, we can always suggest a solid idea that will be right for your draft beer setup.
To place an order, all you have to do is:
Choose the type and material for your future tap handle
Submit your artwork for branding
Approve the final artwork we send you
Allow 1–4 days for us to produce and ship the tap handles to you.
You can also request a beer tap handle design template for any of the models we offer for branding – we'll be happy to produce them based on your design.
Orders within the US and Canada are shipped via UPS, FedEx, and Canada Post. There's no minimum order amount – however, we do give good discounts on bulk orders.